Plugins
The 13 Most Essential Plugins for WordPress
WordPress
is a very powerful and flexible blog/content management system, but the thousands of
plugins
really help to extend the basic functionality. Here are 13 essential plugins that you should immediately install after finishing the WordPress installation.
Read this article
/screencast
»
WP Tutorial: Your first WP plugin

Here it is, a video guide to creating your first WordPress plugin (in under 5 minutes!). If people like this enough, I might do these kinds of tutorials on a regular basis. Read this article/screencast »
How to make a wordpress plugin
Here another video tutorial on how to create a wordpress plugin Read this article/screencast »
Create a Custom WordPress Plugin From Scratch
This tutorial will describe the implementation of a WordPress plugin starting from scratch. The plugin will connect to an external OSCommerce database and display random products on your WordPress site. It also implements a configuration page for the WordPress admin panel.
Read this article/screencast »
The Ultimate Guide to Building a WordPress Plugin
When it comes to adding extra functionality to a WordPress blog, WordPress users typically go and search for a plugin that might suit their needs. There are often plugins created for basic extended functionality, but what happens when you can't find the perfect plugin for your needs? It might be easier to just create the plugin yourself. If you think you'd like to take the plunge into writing a WordPress plugin, here are some essential resources and tips to guide you on your way. This will carry you from the earliest stages of plugin creation to promoting your newly-created plugin, and everything in between.
Read this article/screencast »
Anatomy of a WordPress Plugin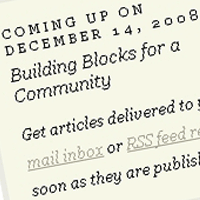 WordPress is well known for its amazing collection of free plugins. There is one for almost every need you can think of, from backing up your WordPress installation to asking for a cup of coffee or fighting spam. But there are times when none of the available plugins seem to quite do the trick you are looking for. To help you in moments like that, this tutorial will guide you through every step of building a simple, widgetized WordPress plugin with settings.
Read this article/screencast »
Themes
New WP Video Series
Due to high demand, we're launching a new WordPress video series on the ThemeForest Blog that will run alongside the "Diving into PHP" screencasts. It is our hope that these two series, viewed back-to-back, will turn you into a dynamite PHP/WordPress designer. Read this article/screencast »
Everyone seems to be creating WP themes for public consumption. Make yours stand out among the rest! Read this article/screencast »